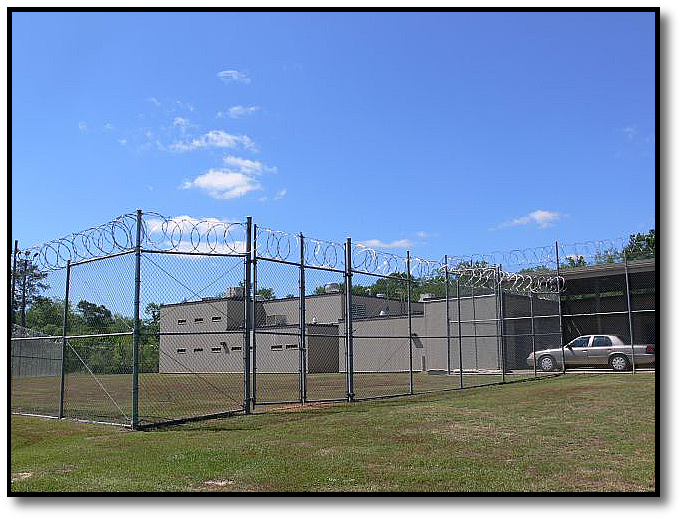 &nbsp The Prince Arnold Detention Center is an adult detention facilitiy. The primary function of the detention center is to house pre-trial defendants, misdemeanors and felony sentenced inmates.

&nbsp The detention center continues to pose population management and housing classification, and safety challenges for the staf. The facility was built in 2002; allowing for 64 beds. It is important to keep in mind that this number does not accurately represent the number of inmates that facility can house on any given day. The linear design of the jail makes it difficult to properly classify inmates in a housing unit (cell). Any inmate that requires special security confinement, medical segregation, female housing, or other special housing needs repidly diminish bed availability
Physical Address: 240 Highway 265 S Camden, AL 36726
---
Visitation
PRINCE ARNOLD DETENTION CENTER
Camden, Wilcox County Alabama

Visiting Hours: Sunday's only




Male Prisoners




Female Prisoners


POD(B) 1:00 p.m. - 1:55 p.m.
POD(C) 2:00 p.m. - 2:55 p.m.
POD(D) 3:00 p.m. - 3:55 p.m.



POD(A) 4:00 p.m. - 4:55 p.m.

The following persons will not be allowed to visit in the P.A Detention Center:

1. Former inmates of this jail, state prison or correctional institutions who were confined in the las six (6) months.

2. Persons who appear to be under the influence of Alcohol/drugs.

3. Any person currently on bail as a result of an indictment or complaint.

4. Any person who might endanger the security of the jail.

5. You must be prepared to produce photo ID with Date Of Birth at each visit

6. Any under the age of eighteen (18)
---
Commissary Services
Commissary services provided by Swanson Website

This service is specifically designed for facilities with less than 200 residents. Swanson will provide our state of the art Banker software to clients in need of a true trust-fund accounting software. Orders are transmitted via phone modem or over the internet to one of our 22 conveniently located Service Centers.

Orders are processed and shipped common carrier or by one of Swanson secure trucks the same day the orders are received. Specialized programs, like SwanPAK's™, are offered to increase your sales and meet the needs of all your residents on off-commissary days. We have a No Back-Order, No Substitution policy.

---
Mail
All detainees may have access to the U.S. Mail Service provided they follow these rules:
1. All mail, both incoming and outgoing, shall be inspected by the Dentention Center authorities for contraband.

2. All packages received by detainees will be inspected by Detention Center authorities for contraband. Any non-allowable items received in packeges will be returned to the sender at the detainee's expense or disposed of with the permission of detainee.

3. Any mail, incoming or outgoing to/from detainees in other institutions or detention centers is prohibited.

4. Every detainee has the right to communicate with counsel of his/her choice, public officials, or courts without his/her
correspondence being read. However, any such correspondence may be opened in the detainee's presence to inspect for
contraband, no member of the detention center will read correspondence between detainee and attorney; however, attorneys
are not to act as conduit for other mail.